Zealandia – animal species you can`t find elsewhere.
Enjoy Exotic Wildlife at Zealandia Sanctuary!
The Zealandia ecosanctuary in Wellington, New Zealand has a wide array of animal species, some of which are not found elsewhere.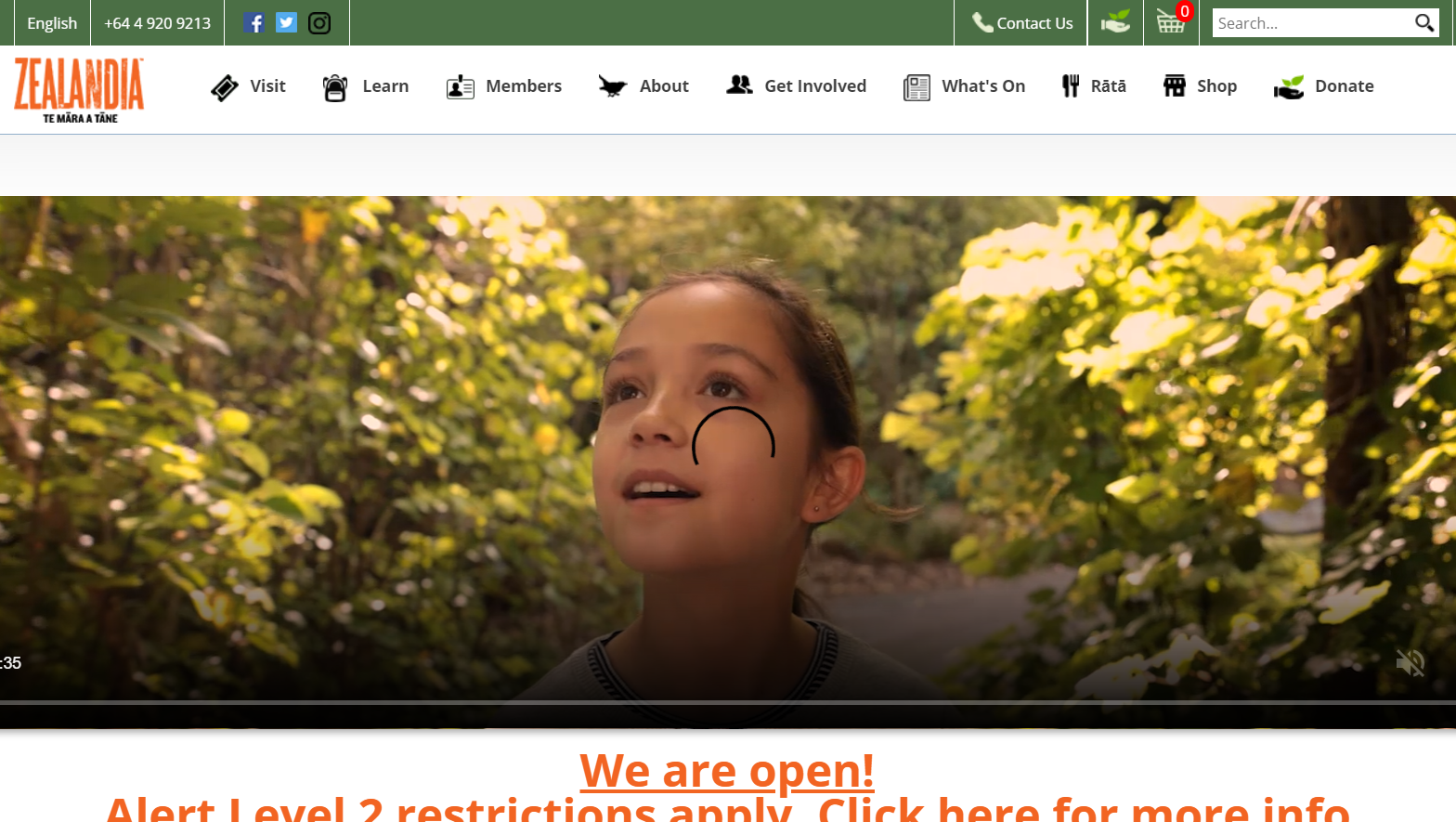 The wildlife now in the ecosanctuary includes 18 species reintroduced to the area. Some of these species had gone missing for a hundred years.
You can hardly find the 40 exotic species in the park elsewhere. This makes seeing them a unique life experience.
Facts and Contacts
Zealandia is open every day between 9 am and 5 pm, except on Christmas day. Furthermore, you can easily contact the ecosanctuary via email: info@visitzealandia.com or phone +64 4 920 9213. The help center is available around the clock, making it easy to get immediate responses.
About Zealandia
Zealandia Te Māra a Tāne is a fully fenced ecosanctuary, situated on the outskirts of Wellington, New Zealand. Its long-term vision is to preserve forest and water ecosystems, as closely as possible to their pre-human state. The ecosanctuary is restoring native wildlife to connect it to people.
Before the arrival of human beings in New Zealand, there were no mammals on the Island. Existing animal species then evolved without the threat of mammal predators. However, 700 years ago, human beings arrived and brought with them other domesticated animals, including predators such as dogs, and nearly decimated the existing wildlife and plants.
Animals in the Zealandia
Animals in Zealandia include amphibians, reptiles, birds, fish, and mammals. Among them are 24 endemic bird species that are only found in the facility. Also, there are dozens of reptile species that are very rare in other areas. The special plan of the ecosanctuary management ensures that these nearly extinct species continue to survive and thrive, for the enjoyment of current and future generations.
Accessibility
Public Transport
Zealandia is easily accessible due to its proximity to the city of Wellington. You can reach it by private shuttle, bus, or cable car. The shuttle picks passengers from the botanic gardens, where the cable car drops them. The bus drops passengers at the end of Wellington's Waiapu Road, in Karori. From there, it is a two-minute walk to the ecosanctuary. Alternatively, you can use electric vehicles or eco-bikes in Zealandia since there are several high-speed charging stations for them.
Persons With Disability
Zealandia welcomes disabled persons for tours. Though the inside of the ecosanctuary is kept as natural as possible, there are paved paths on which to use wheelchairs. Deaf and blind visitors, as well as those with other impairments, are also catered for, to ensure that they enjoy the tours.
Get Involved
You can play a big role in the conservation efforts of the unique Zealandia project. One of the ways of getting involved is to become a member of the project. Through your membership, you can help preserve nature and connect people to wildlife. Zealandia has been able to maintain the facility through the participation of members. Some people also opt to work as volunteers on a seasonal basis. You can do that as well.
It is also possible to simply donate. The ecosanctuary is a non-profit organization, so all donations go towards the noble cause of conservation efforts. You can donate via wire transfer to the Karori Sanctuary Trust account, no. 03 1540 0018062 00, with the word "Donation" as your reference. To get any information you need about making donations, you can contact Zealandia through donate@visitzealandia.com.
Visit Zealandia
Visitors go on tours in small groups of 12. Such groupings enable family units or parties of friends to tour together conveniently. Children can only go on tour during the day, though there are night tours for those aged 12 and above. Tours for adults at night are also available. Such night tours are quite useful for the observation of nocturnal animals.
There are different kinds of scheduled tours as follows.
Day Tours
These are typically 2-hour tours that are available every day, all year round. Departure times are 10 am, 11 am and 1 pm. There are no age restrictions.
Twilight Tours
These are available in October-March. Departure times are just before dusk and the duration is 2.5 hours. The minimum age allowed is 5 years.
Night Tours
Nocturnal tours are available all year round and begin at dusk. They also last 2.5 hours and the minimum age allowed is 12 years.
Kids' Night Walks
Night walks for kids are available in April-September. Kids 12 years and over are eligible. The tours begin after dusk and last 1.5 hours.
Dawn Walks
The walks take off between 6.14 to 8.45 am. Persons aged 12 and over are eligible. The walks happen in June-August.
Private Tours
These are specially arranged tours ideal for groups wanting an exclusive experience. They have flexible times during the day or night. A tour guide personally leads each tour party.
Faq
Are tours in Zealandia expensive?
No, the tours are quite affordable, you can find out about the costs by mailing info@visitzealandia.com. You will find that they are well within your budget.
When is the best time to tour, day or night?
Day and night tours are equally interesting, but day tours are best for first-timers. Furthermore, you can see more during the day, but remember there are animals which appear only at night.
What is special about Zealandia?
It has some animal and plant species not found anywhere else in the world. This makes visiting the park a unique experience that you will not find elsewhere.
Can we come in large groups?
Yes, you can be as many as you like. You will be put into groups of 12 for the tours. Tour experiences are more interesting when you share them with others.
Can we take photos in the sanctuary?
Yes, you can. The best memorabilia you can take from a tour are photographs. It will be fun to share such photos later with friends and on your social media accounts.