Te papa (Wellington museum) – the National Museum of NZ
Whether it's your first visit, or you've been visiting regularly, in Te Papa Museum you will always find something exciting to look at or learn from. It's a world-class museum, located right at the heart of Wellington.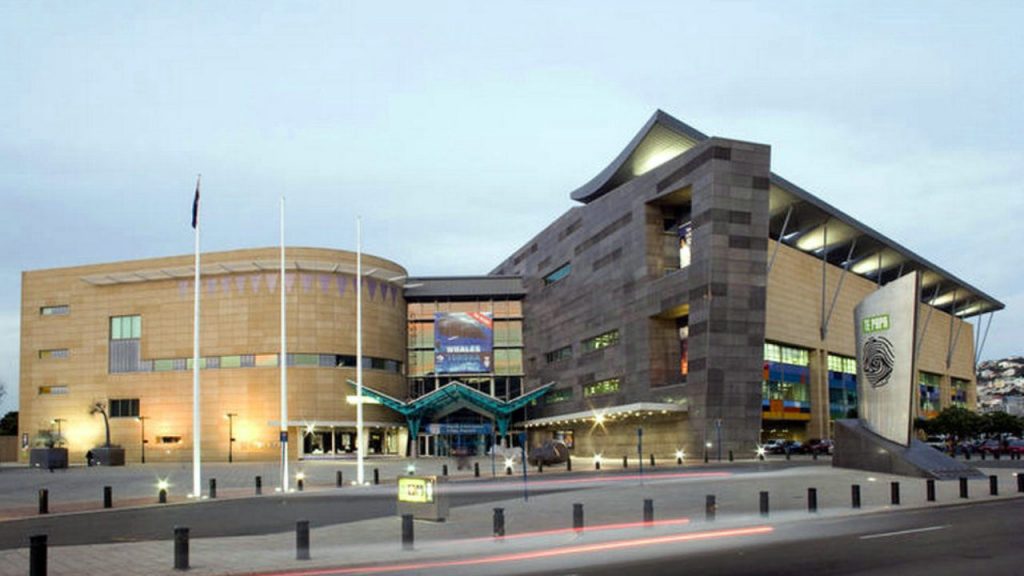 The best thing is that there are no entry charges. You can view all the incredible exhibitions for free. Te Papa is not just a regular museum with boring artefacts.
Their efforts in creating, designing, re-designing, and organizing their exhibitions are visible from a glance. Keep reading this article to learn more about its history, collection, and other things you should keep in mind before visiting.
Organization and Contact details
As mentioned earlier, Te Papa is located right at the centre of Wellington, New Zealand. The museum's physical address is:
55 Cable Street
PO Box 467
Wellington, 6011
New Zealand
Moreover, it is open every day from 10 AM to 6 PM, so you can visit any time you want. Keep in mind, though, that it is closed on Christmas Day. There are no entry charges. However, you may need to pay a small fee to access some few short-term activities or exhibitions.
In case of any queries, concerns, or complaints, Te Papa has a friendly team of experts to help you. Just reach out to them and have your issue resolved quickly. The available contacts include:
Email: online@ticketek.co.nz
Phone: +64 (04) 381 7000
Alternatively, there are enquiry forms on the museum's official website. These forms cover different aspects of the museum, so if you click through one, the right support agent will get back to you in a short while.
History
Te Papa was established in 1992 and part of the reason for its opening was the exploration of the national identity of New Zealand. The official opening took place on 14 February 1998, in a ceremony led by the then Prime Minister.
In the first five months that it was opened, the museum had one million visitors and today it is visited by 1 to 1.3 million tourists every year. Te Papa's development was even documented in a film called Getting to Our Place.
Its Māori name translates literally to 'container of treasures'. A fuller interpretation is 'our container of treasured things and people that spring from Mother Earth here in New Zealand'.
When Te Papa museum opened, it united the National Museum and National Art Gallery as one entity. It also united the collections of the two institutions.
Before Visit
Before visiting the museum, you should look at its official page to learn more about current Covid restrictions. To get to the museum, you can take the bus and stop at Courtenay Place or Willis Street. Te Papa is just a few minutes' walk away.
Or you can go by car and enter the car park on Cable Street, by Circa Theatre. You can park for $4 per hour. You can pay with cash, EFTPOS, debit card, or most credit cards.
Before visiting, you should also be aware of the rules at this museum. You can't eat or drink in the museum, only outdoors. You also can't take photos of areas with 'no camera' signs. And you can only touch objects that have a 'touch' sign.
Collection
The Museum's History Collection includes many dresses, with some of them even dating back to the16th century. This collection also includes 20,000 stamps and other related objects in the New Zealand Post Archive. And let's not forget about the Pacific Collection, which has about 13,000 historic and contemporary items from the Pacific Islands.
There are also significant collections of fossils and archaeozoology, a herbarium of about 250,000 dried specimens, and a collection of about 70,000 specimens of New Zealand birds. Furthermore, the cultural collections include collections of cultural treasures, Pacific cultures, and photography.
In this museum, you can also see the Elgar Collection, a valuable collection of 17th-century paintings and furniture. Furthermore, Te Papa also has a mixture of touring exhibitions, hands-on and interactive exhibitions, long-term exhibitions of cultural objects and cultural spaces.
Te Papa's tour
If you are in Wellington only for a limited time, or maybe you want an introduction to New Zealand's rich history and cultures, it is better for you to book a tour. The tour will give you a great opportunity to understand Aotearoand have a look at New Zealand's beautiful landscapes. The museum offers a journey that will help you learn more about New Zealand's rich history and cultures. Through this tour, you can hear stories of the resilience of the Māori people, and their artistic interpretations of life in the South Pacific.
Moreover, Te Papa museum offers a variety of tours, and you can book them on their official website. The duration of each tour is approximately 60 minutes and costs $20 per adult. Also, there are other tours that the museum offers, like the Surrealist Art Tour, Daily Mana Māori tour, Art Narratives Tour, etc. These tours have different costs.
FAQ
Is there any Discovery Centre in the museum?
Te Papa's two Discovery Centres have interactive games and books and can accommodate large groups of accompanied children. Discovery Centres cannot be booked.
What if I lose something within the museum?
Looking for lost and found? Either head to the Information Desk on Level 2 or fill in their lost property enquiry form on their website.
Does the museum have lockers?
Te Papa Museum has self-service lockers for visitors to use. The lockers are located on your right as soon as you enter the main entrance. Their cost varies from $2 to $8.
Can visitors with disabilities access the museum?
Most of Te Papa can be easily accessed by visitors using wheelchairs and other mobility vehicles. Exhibitions, cafés, stores, and most toilets are some of their accessible areas. Moreover, you can even book a wheelchair and a mobility scooter at their website.
Are assistance dogs allowed in the museum?
When assisting a person with a disability, certified assistance dogs have the right to enter the Te Papa museum. Keep in mind that you should ensure that the dog is wearing the appropriate coat and is carrying a valid ID card.