Wellington Zoo – 500 exotic and native endangered animals.
Wellington Zoo sits on a 32-acre piece of land situated on a hill in Newtown in the city's green belt. It is easily accessible from the city centre being just a 10-minute bus ride away.
If you come by car, there's limited free parking available. The zoo welcomes visitors of all ages.
Service dogs are also welcome, provided they are fully vaccinated. However, there are some steep paths that are marked on the Zoo Map.
The Zoo houses more than 500 exotic and native endangered animals. They include kiwis, penguins, chimpanzees, meerkats, lemurs, capybaras, and Sumatran Tigers to name but a few.
There's also a state-of-the-art animal hospital complete with surgical rooms and saltwater pools. Visitors can watch the vets at work.
As a visitor to Wellington Zoo, you can stroll through the grounds or have close encounters with some of the exotic animals.
As if that's not enough, you can enjoy various tasty snacks and drinks from the Mojo Café and even get a souvenir from the Zoo Shop.
What's more, your kids can run wild in some awesome playgrounds including the Blue Tongue Lizard Slide.
Keep reading to find out what you can see and do at Wellington Zoo.
History
Wellington Zoo is the oldest zoo and oldest animal conservation organisation in New Zealand. It was founded in 1906 after a group of residents petitioned the Wellington city authorities to establish a zoo and conservation facility.
At that time, the Bostock and Wombwell circus gave the prime minister, Richard Seddon a lion that he named King Dick. This was the zoo's first animal and was later joined by kangaroos, llamas and emus.
Some notable past inmates of the Zoo include Percy the Pelican, who, at age 62 years, entered the Guinness Book of Records as the world's oldest pelican. In 1927, Wellington Zoo received Nellikuthra, its first female elephant, a gift from the government of Madras.
In 1949, a grey gibbon named Nippy arrived at the zoo and went on to become its longest-serving resident.
Originally managed by Wellington City Council, since 2003 Wellington Zoo has been managed by a non-profit charitable trust on behalf of, and with funding from, the Wellington City Council. It is also a founding member of the World Association of Zoos and Aquariums (WAZA).
Animals
More than 500 animals can be found at Wellington Zoo. These include a wide variety of both native and exotic mammals, birds and reptiles from New Zealand, Africa, Australia, Asia and America.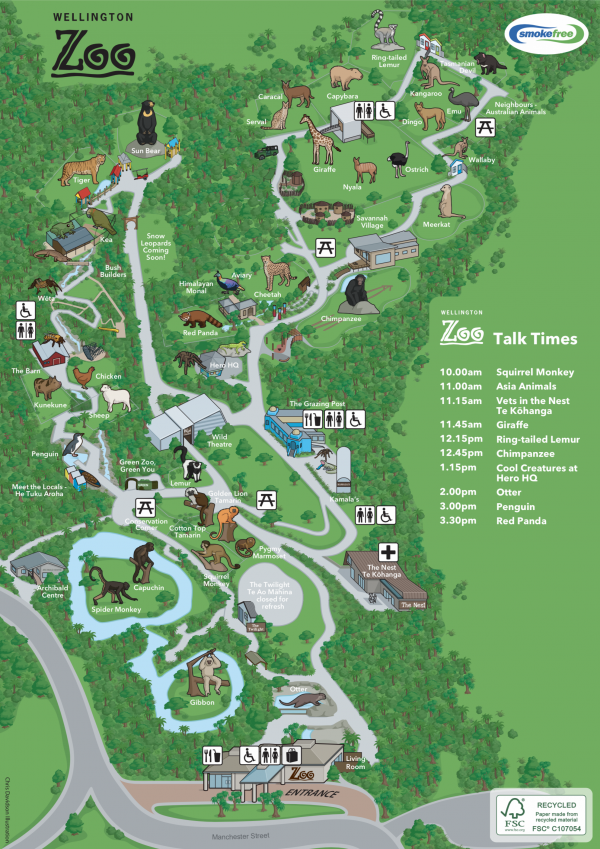 Among these are critically endangered mammals including Sumatran Tigers, Cotton Top Tamarins and White-Cheeked Gibbons, along with Malayan Sun Bears and Red Panda.
Apart from mammals, you will also find a wide array of bird species. They include endangered Derbyan Parakeets, the nationally endangered Kea and the nationally declining Little Blue penguin or Kororā.
As if that's not enough, you'll also find a vast array of other birds, including Cape Barren Geese, Himalayan Monals, Brown Kiwi and Brolgas.
But that's not all as the zoo is also home to various reptiles and amphibians. They include native species like the Tuatara, Grand Skink and Otago Skink.
Head to the specially designed Meet the Locals He Tuku Aroha, walkthrough New Zealand species exhibit and see if you can spot the Wellington Tree Wētā inside the purpose-built Wētā hotel!
Getting to see all these and more will definitely give you one of the experiences of a lifetime.
Close encounters
One interactive feature that Wellington Zoo offers to visitors is the Close Encounters program. For a small additional fee, you'll have the chance to get really close to some of the cutest animals in the zoo.
A zookeeper will be on hand to introduce you to the animals and answer any questions you may have about them. However, there's more than just a close-up meeting.
You will also get a chance to hand-feed the animals and even take photographs.
One of the most memorable close encounters is with the Capybara, the world's biggest rodent.
The animal shares similar mouth features with mice, rats and guinea pigs, but has partially webbed feet making it an excellent swimmer.
For just NZ$99, which includes the entry fee, you can have a 30-minute encounter with this social creature. This happens at 1.00 pm daily, but you will need to make a booking in advance.
Other close encounters include time with the Black and White Ruffed Lemurs. This happens at 3.15 pm daily and also costs NZ$99 per person inclusive of entry charges.
If you'd like a close encounter with the meerkats, then 30-minute sessions are available between 1.00 pm and 4.00 pm.
Other close encounters are with the giraffes at 3.15 pm on weekends and the red pandas at 11.30 am every day.
Animal care
Wellington Zoo is committed to giving the animals top-quality care in order to improve and maintain their quality of life. The zookeepers don't just clean the animal enclosures, they maintain the habitats and prepare the food for the animals in their care.
Buy more than that, they provide enrichment and watch and record behaviour. All this is designed to enrich the animals' behaviour and enhance their overall well-being.
To provide the best veterinary care, the zoo houses an integral state-of-the-art animal hospital — The Nest Te Kōhanga. The facility has treatment and surgical rooms, saltwater pools, aviaries and recovery spaces.
It is also equipped with the advanced diagnostic equipment that's needed to provide quality care for all the animals.
As well as conducting routine health checks on the animals at the zoo, the skilled professionals working here also treat injured wildlife brought there from all over the Wellington area.
Depending on the species, they may conduct one-on-one fitness training for the animals and rehabilitate those that are injured.
Visitors can get a unique view of the work being done, as everything is on display with the vets talking through all the procedures daily.
About the zoo
Apart from the animals, there are plenty of other things that Wellington Zoo offers. As well as the Close Encounter experiences, every day there are several, free, animal talks.
Check out the Zoo Map for the times and locations and plan your day, so you don't miss any. For even more adventures, the zoo offers sleepovers. Just bring your pillow and sleeping bag for a night of discovery.
Wellington Zoo is not huge. However, you can make a day of it. Explore all the different habitats, listen to the talks and watch the vets at work. Bring a picnic, or enjoy some tasty food and drink from The Grazing Post or Mojo Café.
Let the kids run wild and free in the playground hub, which hosts several fun features, including the Blue Tongue Lizard Slide, the Australian playground and the African jeeps play area.
Round off your visit with a souvenir from the Gift Shop.
Contact details
If you want to contact Wellington Zoo, you can call 04-381-6755 for General Enquiries. Call 04-389-3692 for bookings or call 021-227-8172 for venue hire.
Alternatively, you can email wellingtonzoo@wellingtonzoo.com.
To keep up-to-date with everything that's happening at the zoo, subscribe to the newsletter.
You can also access all this information at the website, www.wellingtonzoo.com.
Wellington Zoo Faq
What animals will I see at Wellington Zoo?
The zoo has over 500 native, exotic and endangered animals. They include Otago Skinks, Blue Penguins, Sumatran Tigers, Brown Kiwis and Red Pandas among many others.
Apart from animals, what else does Wellington Zoo offer?
The zoo also has plenty of recreational facilities for kids to enjoy. There is also a gift and souvenir shop as well a restaurant and café where you can light refreshments.
Is Wellington Zoo accessible?
The zoo paths are suitable for wheelchairs and pushchairs. However, it is built on a hill and some paths are steep. These are marked on the Zoo Map. Alternatively, ask our zoo staff for help or advice.
How do I buy tickets?
To buy tickets, simply visit the website, fill in your details and pay. Note that the validity of the tickets is 6 months from the date of purchase.